To show all aspects of steam - rail, water and road - in such close vicinity within one of Germany´s most beautiful landscape makes this event a must for all steam fans.
It is hard to imagine a background more historical and cultural:
the Dicasterial Building in Ehrenbreitstein
the German Corner, confluence of the rivers Rhine and Moselle
with the monument of Kaiser Wilhelm
the city line of Coblence with its historical Old Town
And above all towers the monumental stronghold of Ehrenbreitstein Castle - a most splendid viewpoint from which to follow the event!
Last but not least, Coblence also hosts the DB-Rail & Transport Museum in Lützel. Here, all steam engines will be supplied with the necessary coal and water.
There will be an entrance fee to all event areas.
All areas are well connected with each other by means of steam transport.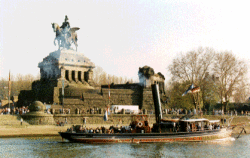 | | | |
| --- | --- | --- |
| Ehrenbreitstein | Rhein-und Moselufer mit deutschem Eck | DB-Verkehrsmuseum Lützel |
| | | Restaurierung von Dampfloks |
| | | Ausstellung historischer elektrischer Lokomotiven |
| | Arbeitsdampfmaschinen | Historische Salonwagen |
| stationäre Dampfmaschinen | | |
| Kinderdampfeisenbahn | | Kinderdampfeisenbahn |
| | | |
| | | |
| | | Triebwagen zum Hauptbahnhof |